Truck drivers and fleet owners need to have a repair shop they can count on to provide the specialized services these types of vehicles require. For more than 30 years, JHT Service & Repair has been that shop for thousands of area drivers and businesses. Here's a closer look at some of the key services we offer in our shop: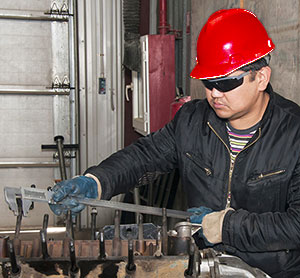 Semi & fleet mechanical services: JHT Service & Repair offers major and minor repair service for semi trucks, trailers, farm equipment, industrial equipment and more. Our specialties include mechanical, electrical, brake, transmission and suspension repairs.
A/C and refrigeration repair: For vehicles with special refrigeration needs, our technicians are experienced and highly capable in offering the repairs you need. We also offer regular A/C repairs to keep your truck nice and comfortable.
Computer diagnostics: We're equipped to provide computer diagnostics to pinpoint the precise nature of the problem your vehicle is experiencing. We're also able to offer these services remotely.
Laser track alignments: Alignment problems can be hazardous and costly if not fixed in time. We can provide laser track alignment service for extra precision and accuracy.
DOT inspections and repairs: JHT Service & Repair is certified to provide Department of Transportation inspections and truck and trailer repairs in La Salle, CO.
Decking and un-decking trailers: When you need trailers transported on their own—or when you're done with this and need to be able to use them—we offer decking and un-decking service.
New and used parts: JHT Service & Repair stocks a wide variety of new and used parts for our customers, which also allows us to provide faster repairs.
Tire sales and service: We also sell new, used and recapped tires, and are able to provide standard tire services such as repairs, rotations and replacement.
When you're in need of a shop that can provide A/C repairs, computer diagnostics and truck engine repairs in La Salle, CO, we hope you'll turn to the team at JHT Service & Repair. Give us a call at 970-284-5169 to schedule repairs, or just bring your vehicle by our shop. We look forward to assisting you!